Meet the Team
Our experienced team are passionate about building an innovative, customer-centric business with people at it's heart, working in partnership with agents to create unique solutions that delight
Meet the management team
Ben Ridgway, Founder
As co-Founder, Ben has overseen our group's expansion from a primarily-auction focused business into new markets, such as Conveyancing, Compliance and CRM. Ben's main role and passion is to explore innovation and new opportunities to develop the businesses digital strategy, investing in and developing solutions that allow property professionals to enhance their proposition and profitability.
Jamie Cooke, Founder
As co-Founder, Jamie has overseen iamproperty's expansion into new markets whilst maintaining iamsold's position as the market leading auctions provider. Jamie's main role is the day to day operations of iamsold, the UKs largest and fastest growing auction provider, Jamie oversees continuous innovation to ensure iamproperty's auction services continue to lead the way.
Michele Gettins, CMO
Michele joined iamproperty in 2019 to lead and grow the group's Marketing function. The group's bold vision and her passion for pushing boundaries, means Michele takes every opportunity to work with the teams to transform the industry for the benefit of agents and consumers. Michele is an experienced senior leader with a strong strategic marketing and commercial background.
Lee Maher, COO
Lee joined iamproperty in 2020, entering the business with a 20+ year career in senior leadership within insurance, energy and property industries. Lee is passionate about developing people, bringing his strong coaching methodology and history of achieving high employee engagement. His experience includes working with some of the UK's largest property owners, developers and Letting agents.
Nicola Sharp, CPO
Nicola joined iamproperty in 2018, bringing strategic direction as a Chartered and qualified CIPD HR professional, with over 20 years experience. With a strong background in working for blue-chip global companies, Nicola's passion lies in supporting the business goals through the people agenda. Her main focus is driving a thriving company culture, with the team at the heart.
Eoghan Johnston, CFO
Eoghan joined iamproperty in 2016, instantly making an impact on the company's financial direction as the Group Financial Director. Today, Eoghan is responsible for all Finance, Insurance, Commercial, Legal and Compliance activity within iamproperty. Helping to steer the company through fast growth and acquisitive activity.
Neil Hope, CTO
Neil joined iamproperty in 2022 as CTO at a pivotal time for the business. Neil has an extensive background in managing technology and IT infrastructure for large scale businesses. His focus is on delivering leading products and exceptional customer service; as well as providing technical leadership for iamproperty, and delivering the iamproperty ecosystem.
Our awards and recognition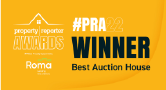 You may also like…
We're ambitious market leaders with an innovation track record that speaks for itself
Find out more
Like what you see? We're always on the hunt for driven people to join our team
View careers